Winter Hours Starting 11-13-2023
Monday - Friday 8a -3p
Saturday CLOSED


2023 HOLIDAYS CLOSED: May 29, 30/July 4/Sept. 1-4/Nov. 23-26/Dec. 24-Jan. 1




After hours salt loading hours are based on current conditions.

Sign up for our text message alerts for information. Call 810-687-5149

Phone: 810-687-5149

See What's New
Bulk Food Plot Seed For Deer and Wildlife
Great for hunters and wildlife watchers.  We have in stock Mighty White Clover, Purple Top Turnip, Shawnee Switchgrass, Sweet Sorghum Sudan Grass, Soybean, Synergy Ladino White Clover, Torpedo Oilseed Radish, Rape Seed, Buckwheat, Medium Red Clover, Winter Rye and Winter Star Peas. This is pure seed with no fillers. Looking for a certain food plot seed? Ask one of our sales associates if they can special order.
OCTOBER SPECIALS - WHILE SUPPLIES LAST
2 C/F BAGS OF MULCH, $2 EACH. AVAILABLE IN RED, BLACK & PINE BARK NUGGETS. WHILE SUPPLIES LAST.

WE STILL HAVE STATUARY AND PLAQUES AT REDUCED PRICES. PLAQUES STARTING AT $2.50 - $5.  STATUARY STARTING AT $4 - $20 WHILE SUPPLIES LAST.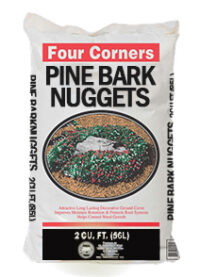 Exciting Announcement
We have 2NS sand
40# Persimmon Deer Corn IN STOCK
Now in stock!

Coast of Maine Organic Products was founded in 1996 with the simple idea that a healthy planet needs healthy soil to sustain life. From this idea, a love of gardening and a commitment to sustainable practices, Coast of Maine Organic Products has grown to offer what we believe are the most unique and effective organic soil amendments.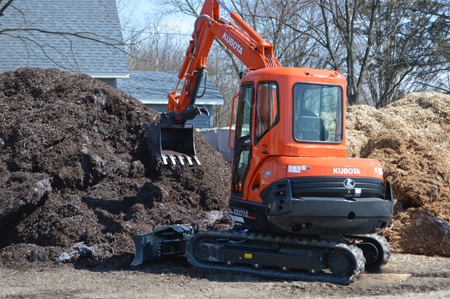 Light Excavating and Payload Service
We can handle light excavating work in tight areas. Our narrow stance excavator is the perfect solution for detailed work.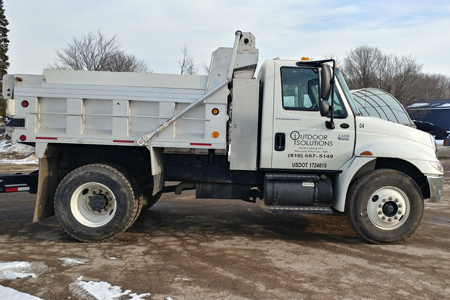 Full and Small Quantity Delivery Service
Need a small quantity of material delivered? We are one of the few landscape suppliers that will do it. Call today for a quote.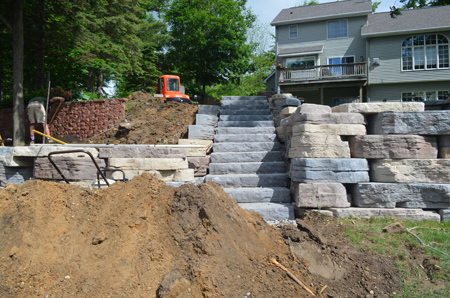 Expert Hardscape Installation
Specializing in retaining walls, Outdoor Solutions Landscape is your first choice for quality work that will enhance the value of your home.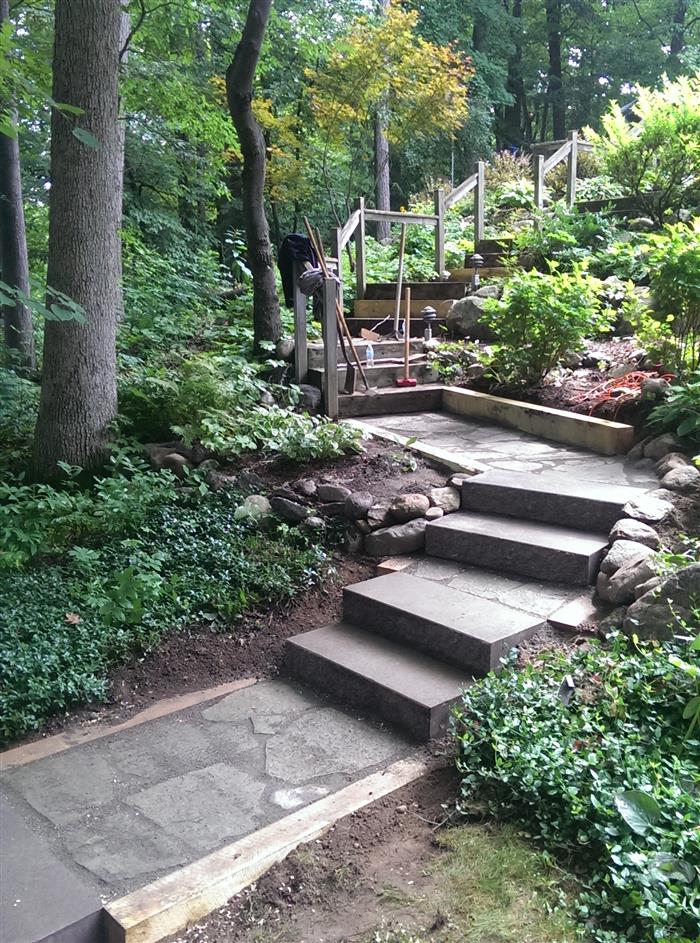 Landscaping Supplies Near Flint Michigan
Retaining Wall Installation Service
Are you thinking of having your home or business professionally hardscaped? Then look no further than Outdoor Solutions Landscaping of Mt. Morris, Michigan. Since 2002 we have been the best provider of custom installation services in Michigan. You will work directly with the owner to create the yard of your dreams.

Outdoor Solutions Landscaping offers professional advice when it comes to patios and retaining walls. Personalized schedules can be designed to fit your individual needs. All of our employees have undergone extensive training to ensure that both you and your neighbors notice the difference Outdoor Solutions Landscaping makes.

Landscape Supply Yard

Starting in 2011, we opened the supply yard to handle the growing need for landscape supplies and bulk materials. Customers come from miles around not only for our products but the expert advice that comes with it. Need it delivered? We will deliver right to your home or job site and as little as 1 yard. You won't find better service than that.


Phone: 810-687-5149
Supply Yard serving Mt. Morris, Clio, Flint, and Genesee County.
At Outdoor Solutions, we understand that your outdoor space is an extension of your home and we take pride in helping you create a beautiful landscape. Whether you're a homeowner looking to enhance your yard or a professional landscaper in need of materials for your next project, we have everything you need to bring your vision to life.
Our inventory includes a wide variety of materials, such as mulch, soil, gravel, sand, and decorative stones, as well as a range of tools and equipment to help you get the job done right. Our knowledgeable staff is always available to assist you with any questions you may have and can even provide you with recommendations and advice to ensure that your project is a success.
At Outdoor Solutions, we are committed to sustainability and environmentally-friendly practices. That's why we offer a range of eco-friendly products, such as organic soil and mulch, to help you create a beautiful landscape while minimizing your impact on the environment.
Our advantage is the available small load service. If you need a small load of landscape material delivered to your home or job site, we have got you covered.